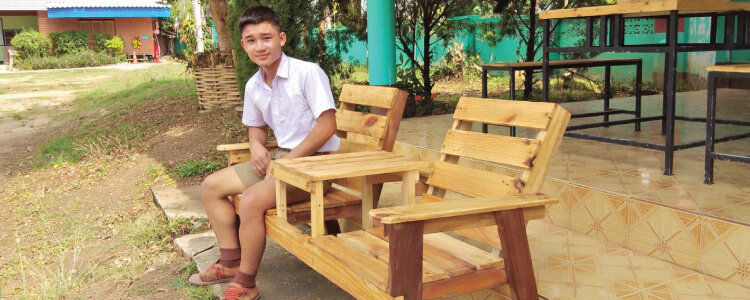 One of the schools in Mae Sariang caters for children from kindergarten level up to Grade 9 in secondary education. However, due to a lack of educational resources, the school found it challenging to adopt an academic-focused approach.
To equip secondary school students with skills which they can develop into future careers, vocational training was introduced to the syllabus. Furniture-making is one of the most popular courses for male students. One of them is NongSak.
A Grade 9 student, NongSak has gained the moniker "Master Adisak" for his skills in wood work. "I was in the first batch of students to learn how to make furniture. I am not good academically but I enjoy working with my hands. Before I started learning how to make furniture, I did not know anything about it. But now I can do almost everything. The lessons have trained me well and I would like to make furniture for a living. My teacher has also appointed me to teach my juniors. I am very happy to have the opportunity to learn this useful skill."
In 2018, World Vision supported the school with carpentry tools so that it will be better equipped to teach more students. Some of the items the students have made are tables, shoe racks, clothes racks and bottle racks. These items are a hit with the locals and popular with members of the community. In the same year, the handmade items also won third place in an arts and crafts competition organised by a local government agency.
When World Vision started working in Mae Sariang, Thailand in 2009, the children there faced major education challenges.