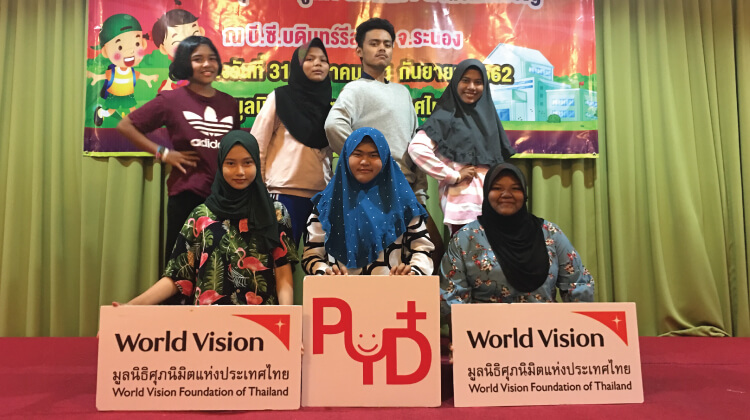 Deen (standing, second from right) gained leadership skills through World Vision's Positive Youth Development Plus (PYD+) workshop.
Deen, age 17, is a representative of the La-Ong-Dao youth group. Here, he tells his story of how joining a youth group has aided his growth as a person and leader:
"In the past, the community did not really provide a stage or forum for children and youths to express their ideas, and very few community activities allowed us to participate. We would be obstructed by the adults whenever we tried to do or present something. Consequently, I dared not express my ideas. I lacked confidence, felt uneasy and had low self-esteem.
"In 2014, World Vision started child and youth groups in schools. This was a new challenge for me and I looked forward to joining. I wanted to express my ideas, practise problem-solving with friends, and propose activities to help develop my village, such as environmental campaigns on mangrove reforestation and raising awareness on garbage collection.
"In 2017, to my joy a new youth group was formed in Kapur and I became a member! We learned to plan and carry out community activities, gaining valuable experience. I was elected to be a youth representative, and participated in World Vision's Positive Youth Development Plus (PYD+) workshop. The workshop taught me to be assertive, make and implement plans, instruct my peers and conduct life skill development activities. It made me more confident and assertive, raising my self-esteem.
"I would like to express my thanks to World Vision. The life experience I gain today will help me take a great step forward when I am grown up. I will use the knowledge I have gained to keep developing myself. Moreover, I will take the lead in bringing about a good life for my friends, family and community. Thank you for giving me the opportunity."
When World Vision started working in Kapur, Thailand in 2008, there was a lack of awareness about child protection.